SAVE VR simulator for training refinery operators
Developed in collaboration with OMV, Austria's national oil and gas company, SAVE is an interactive simulation of a refinery environment. Refinery apprentices are trained to operate equipment and plant correctly and in safety, before they are permitted to operate in the real-world refinery. Plant and equipment are visualized via a VR headset, with the user free to explore, operate complex and large machinery, scale ladders, read gauges, etc. An experienced trainer follows his/her progress and is able to direct the training session, give guidance, and ensure that any mistakes are addressed.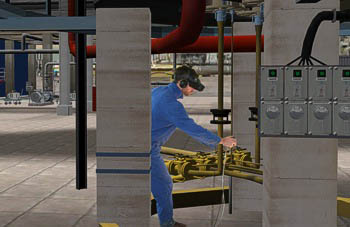 OMV have made the following statements regarding the benefits of using the SAVE simulator:
The training period until the trainee is able to work alone on major apparatus, machine and operations is reduced by up to 12 months

This type of learning is extremely motivating, especially for young Trainees.

Repeating practicing can be done at one's own pace, until the required standard is reached, without endangering the plant.

This training is the most important element of safety for all new employees who have never before worked in such a plant.

Theory and practice come to life for example via the visualization of the inner working of a column, a condenser, etc

The educational principle of self-responsibility in learning is translated into practice: best practice!

The success of the training with the VR simulator is de-facto guaranteed
Watch video about SAVE at YouTube.
---
Petrospace
Interactive refinery simulation on your desktop!
Learn more at the Petrospace homepage…